For many of us, our ferrets are family members, and there's nothing we wouldn't do for them. Whether you are shopping for your ferret or a family member with a ferret, you can't go wrong with any of our top ten gifts for ferrets. They're also perfect for holidays, birthdays and any other gift giving occasion!
1. Holiday Antlers
Deck out the fuzzies in festive Holiday Antlers and let them join in the reindeer games this season.
2. Bear Rug
Perfect for ferrets and small pets, your fuzzy will stay cozy in this multi-function Bear Rug. They can nap inside or play a game of hide-n-seek on this plush rug.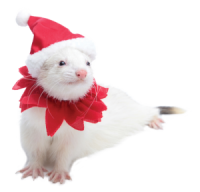 3. Santa Suit
A classic Santa Hat and collar will make it the best time of year this Christmas. It includes a collar and separate hat with elastic strap.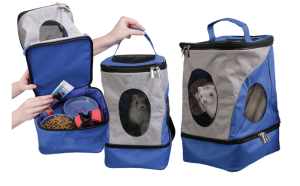 4. Pack-N-Go Backpack
This handy backpack serves two purposes; toting your pet and carrying your pet's supplies. The main compartment is vented for optimal airflow. Zippered storage compartment holds pet's food, waste bags, lead, and toys.
5.Pop-N-Play Ball Pit
Your ferret will love jumping in and out of holes and tunneling through colorful balls in this Ball Pit. Excellent for multiple ferrets and other small pets such as guinea pigs, rats, and chinchillas. Pair with our Super Thru-Way Tunnel for added fun.